Work Details
| | |
| --- | --- |
| Text Author: | Joxemari Iturralde |
| Language: | Basque/tr.Spanish |
| Voicing: | SA |
| Genre: | Children |
| Collection: | CM Choral Collection |
| Reference: | CM.2.0009 |
| ISMN: | 979-0-69203-060-7 |
| Composition: | 1998 |
| Publication: | 2000 |
| Duration: | 8m12s |
| Pages: | 11 |
Description
Bost joku zerutiar, son 5 canciones a dos voces para coro infantil con una temática común: el cielo y sus frutos (las estrellas, las nubes, la noche, el sol, el viento…).
Basadas en estructuras compositivas sencillas, fácilmente asimilables, exploran desde una perspectiva lúdica diversas capacidades que todo coro infantil posee:
la escucha y el diálogo entre las dos voces como objetivo primero, empleando para ello frases cortas, unísonos, preguntas y respuestas, creación de ambientes y alternancia del protagonismo melódico de una voz a la otra. Pueden interpretarse por separado.
Esta obra ganó en el año 1998 el primer premio de composición para coros infantiles en el Certamen Coral de Tolosa.
Recordings
In this section we present audible devices (CDs, DVDs, etc.) where works of our editorial are recorded. CM Ediciones Musicales, S.L., does not have any ownership on these aids and can neither sell nor distribute them. In this record summary, the contact data of the producer, singer or record company are available.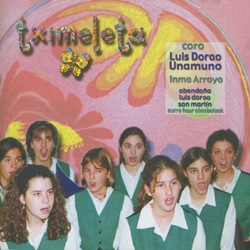 En este disco están grabados dos de los cinco números de esta obra; "Eguzkai sartzen deneko lo Kanta" (corte 6) y "Haizeak fu!" (7).