Work Details
| | |
| --- | --- |
| Text Author: | Popular |
| Language: | Basque |
| Voicing: | SSA |
| Genre: | Popular |
| Collection: | CM Choral Collection |
| Reference: | CM.2.0041 |
| ISMN: | 979-0-69203-081-2 |
| Composition: | 1997 |
| Publication: | 2004 |
| Duration: | 3m26s |
| Pages: | 3 |
Description
This work has no description.
Recordings
In this section we present audible devices (CDs, DVDs, etc.) where works of our editorial are recorded. CM Ediciones Musicales, S.L., does not have any ownership on these aids and can neither sell nor distribute them. In this record summary, the contact data of the producer, singer or record company are available.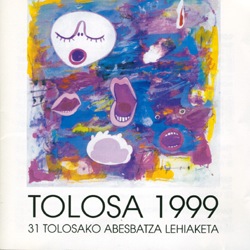 Doble CD recopilatorio del 31 Certamen coral de Tolosa.Se han grabado las mejores interpretaciones de las distintas agrupaciones corales que han pasado por este festival en esta 31 edición.